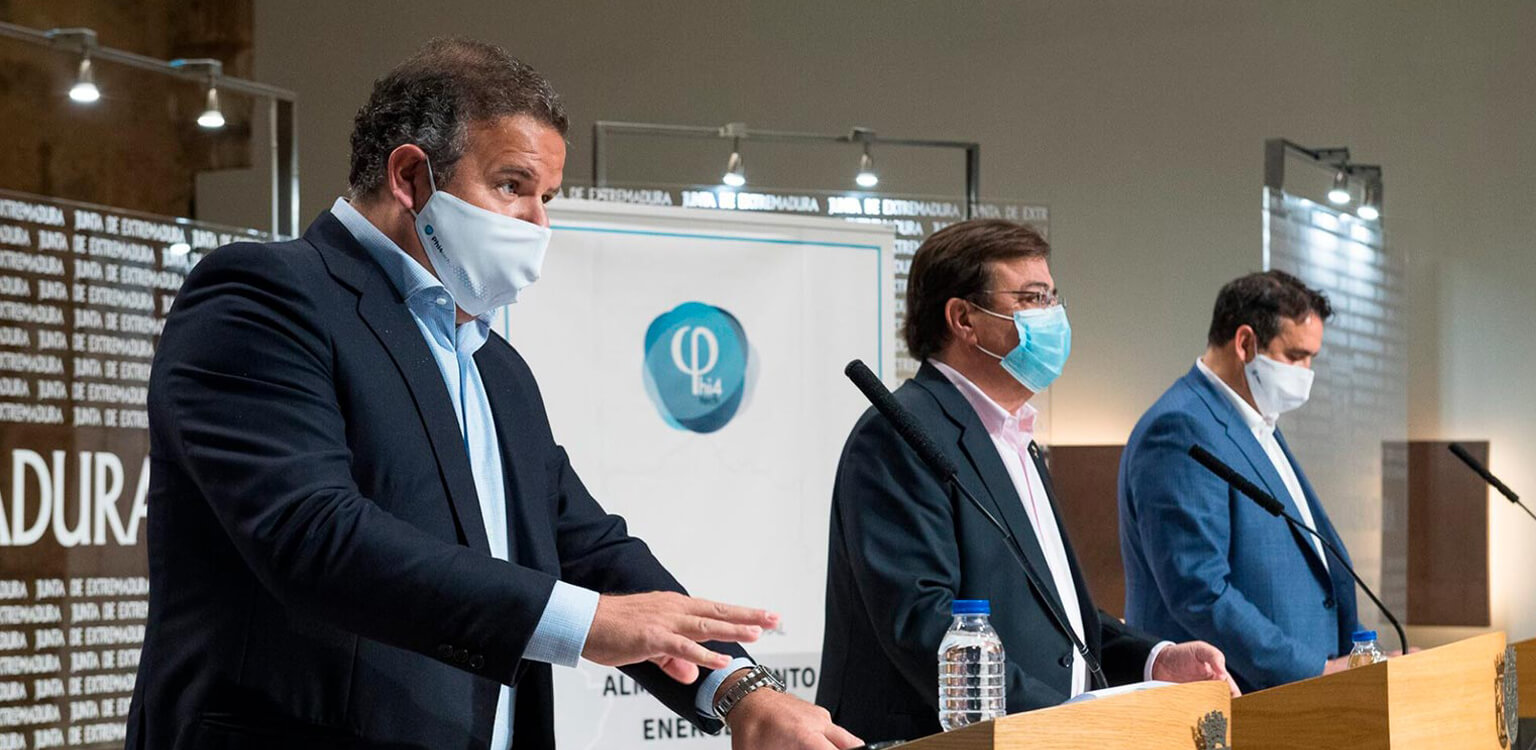 Extremadura will host the
first battery cell factory in southern Europe

, with an investment of 400 million euros and 500 jobs

24.03.2021
Extremadura will have the first battery cell factory in southern Europe, a project to be installed in the Southwest European Logistics Platform, in Badajoz, with a total area of 177,000 square meters, a planned investment of 400 million euros and the creation of 200 jobs in the first phase and 500 jobs at the time of maximum production.
The presentation of this project took place this Wednesday in Mérida, with the presence of the president of the Junta de Extremadura, Guillermo Fernández Vara; the counselor for the Ecological Transition and Sustainability, Olga García; and the CEO of the promoter company, Phi4tech, Mario Celdrán.
Likewise, the referential partner of the business group of the Energy Storage project for Extremadura, Alejandro Ayala; and the Secretary General for Industry and SMEs of the Ministry of Industry, Commerce and Tourism, Raúl Blanco Díaz, who joined by videoconference.
The battery cell factory is part of a comprehensive energy storage project that also includes the extraction of lithium at the Las Navas mine, near the town of Cañaveral, next to a lithium transformation factory; nickel extraction at the Aguablanca mine in Monesterio; and the construction in the province of Cáceres of a cathode factory, in a place yet to be determined, with an investment of 200 million euros and the creation of 360 jobs.
The project is the private initiative of Phi4tech (battery and cathode factories), Lithium Iberia (Las Navas mining project and lithium transformation factory) and individual partners in the case of the Aguablanca mine. The project has financing, clients and project.
In addition, to these initiatives must be added the decision to locate the National Energy Storage Center in Cáceres, with which it is intended to collaborate in theoretical and applied research, and the implementation of an engineering postgraduate master's degree at the University of Extremadura.
Regarding the lithium mining project in Las Navas, the exploitation project and restoration plan as well as the environmental document that respond to all the determinations contained in the scope document are currently being drafted.
The total estimated investment is about 316 million euros (173 million for the lithium transformation factory plus 143 million for the mine and mining plant) with direct employment of 405 people.
Regarding the Aguablanca mine, it is intended to reopen and extract nickel, gold and cobalt. When it is in full swing, about 350 people will be working in Monesterio.
In short, it is an integrating project that is already starting with a global investment of more than 1,000 million euros and 1,300 directs jobs, which indirect ones will have to be added.
A new Era for Extremadura
The president of the Junta de Extremadura, Guillermo Fernández Vara, has pointed out that for the Autonomous Community "a new time is beginning" which means joining the industrial revolution of the 21st century and that "we really need it".
Fernández Vara has assured that Extremadura aspires that its future does not depend every six years on how much money will come from European funds or on how it will be in the distribution of regional financing, but rather that it wants an "inclusive" project, a community that it receives from Spain and that it also contributes to the country's economy.
For the Extremaduran president there is still a debt with the region "and that is that we can fly with our own wings" and be able to "also compete in the industrial league", while he has assured that "a new actor arrives" who is tired of give an image that "has nothing to do with Extremadura today."
He has repeated that he is a new actor who arrives with great enthusiasm and with the aim of being "masters of our destiny", for which he has resources such as industrial land, sun and water, as well as electrical power to meet the needs that are arriving and of the railway improvements that will allow an exit to the merchandise from the region.
He also stated that in Extremadura "we are not in a permanent electoral campaign" but working for Extremadura, Spanish people, without fireworks, and wanted to express "loudly" that Extremadura does not renounce anything, while advancing that there will be more projects that will be presented when they become a reality.
The president described the project presented today as something "loaded with symbolism" and has had words to remember "many generations" of businessmen, politicians and citizens who have fought to make this possible, with a special mention for Juan Carlos Rodríguez Ibarra.
Fernández Vara has asked Spain "to let us fly" and has said that "we do not need wings, but that they do not cut them off, and that they treat us in the same conditions as others when making decisions." On the other hand, he has received recognition from the Government and the Ministry of Industry, without whose participation the project presented today would "be impossible".
He has also valued the role played by the University of Extremadura, which, he recalled, was born in 1974 and has not only allowed the children of day laborers to obtain degrees, but also a new generation of talented citizens who "capable of taking charge of our future".
The Secretary General of Industry and SMEs, Raúl Blanco, has described this presentation as "excellent news for Extremadura and for our country", especially at a time "so severe" in the health aspect.
He pointed out that the project began its journey about two years ago and that it is part of the strategy to accelerate the transformation of the automobile sector in Spain, while also underlining its importance as it is an initiative that will generate industrial activity and a quality and stable employment.
More about the battery cell factory
During the presentation, the CEO of Phi4tech, Mario Celdrán, offered some details about the Badajoz battery cell factory. The factory will have a planned final capacity of 10 gigabytes, planned modularly over time in 5 modules of 2GW.
El módulo inicial de 2GW se inauguraría un año y medio después de iniciadas las obras, exigirá una inversión de unos 80 millones de euros y creará 200 empleos directos.  Las estimaciones son alcanzar los 6GW de producción en 2024. Cuando se alcance la capacidad máxima (10GW), se habrán invertido 400 millones de euros en total y unos 500 empleados directos trabajarán en la fábrica, con opción de ampliación a 20 GWh/año en 2027.
Phi4tech's proposal for its plant in Extremadura is to create a next-generation battery and supercapacitor hybrid. The battery / super capacitor ensures fast charging, high durability and extremely favorable chemistry with the best charge / discharge ratio on the market. It does not contain cobalt, betting on the criteria of sustainability and recyclability aligned with the values promoted by the European Commission.
For the qualification of its employees, Phi4tech is committed to creating an ecosystem of society, university, professional training and administrations, which makes it possible to create value not only economically but also in the training of qualified professionals.
The next step will be to deliver the project plans to the Badajoz City Council to immediately process its urban planning license, and it is estimated that by the end of this year or early 2022 there will already be machines working on the plot, and 20 months later it could be in conditions to inaugurate it, approximately in the middle of 2023.